Observations of the Spotted Tussock Moth Larval Stage: The End
It seemed that the caterpillars ate both day and night but we wanted to find out for sure. We also wanted to know if they ate the same amount of food in the daytime as at night. We did several experiments on the 4th and 5th instar caterpillars to measure the amount of leaves our caterpillars ate during the day vs. at night. It turned out that they ate the same amount at night as during the day.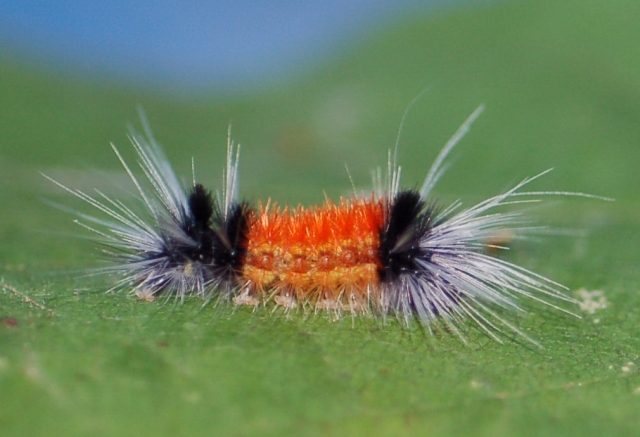 In early October, the caterpillars began to form cocoons. We noticed first that they were no longer eating. Then, after spending some time roaming around the cage to find a good spot, they settled down and made a cocoon using some of their hairs as well as silk they formed. Some of the cocoons were made on the side of the cage and some on the underside of leaves. After "snoozing" through the winter, the moths emerged in June. They were allowed to fly in a large tent, where they mated and produced new eggs. The tiny caterpillars hatched in about two weeks and are now growing big and fat. They are the "grandchildren" of the first moth caught over a year ago at Cape Perpetua.